WeChat, owned by Tencent and known as Weixin in China, will total 494.3 million users in China in 2017, according to WeChatApply's latest forecast.
Adoption of the platform is widespread among smartphone users, with an estimated 79.1% of handset owners accessing the app regularly in 2017. China's mobile audience is very likely to communicate via WeChat; some 84.5%* of mobile phone users are expected to access the platform.
While any thought of WeChat as simply a communication tool , would be far from accurate. Users will spend more than one hour and half a day using WeChat this year, according to Tencent. In addition to messaging features like texting, video conferencing, as well as photo and video sharing, the app's more advanced functions are primarily responsible for driving engagement. Give donations, Share Red Pocket money, online shopping, booking ride services, food ordering, checking your facilities bills and pay those bills, login third party platform using WeChat logins, etc. have made the platform an essential daily ecosystem for consumers breathe and live in China. It becomes people's natural habit to browse through WeChat's friends moments or digesting WeChat Official Account's social posts while standing in life, seating on trains, waiting for food, etc.
Additionally, an April 2017 study from China Channel found that 83% of WeChat users access it for work and business purposes.
With WeChat's large presence in China, WeChatApply expects 40%of the population (1.379 billion in 2016) and every 6 out of 10 Chinese internet users to regularly use the platform this year.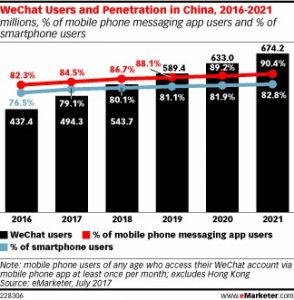 Tencent first launched WeChat in India five years ago, marking its first foray into international markets. So far, WeChat has done well in markets with a large population of expats from China, or with large populations of Chinese-speaking people, such as in US, Canada, Australia, Europe and South America. WeChat has effectively penetrated into its global market by introducing its Payment Solution WeChat Pay as the door opener to the non Chinese markets.
On the contrary, more and more overseas B2C, B2B businesses, education organizations, tourism groups, even government organizations are realizing the importance of the unique Chinese characteristics of social economy and are seizing the market entry opportunity provided by WeChat to target Chinese audience. For example, Study Adelaide, Tourism Australia, Macquarie University, City of Melbourne Council, Westpac and countless others have recently applied and set up their WeChat official account on which they build their Chinese language marketing content and strategy. Interested to learn more about how to get started? Seek advice from our professional team at WeChatApply, the official WeChat authorized partner looking after Asia Pacific and Oceania region.
*Data sources eMarketer post written by Corey McNair on 13 July 2017
About Wechatapply
Wechatapply is an award winning China WeChat digital marketing agency based in Sydney.Working across all aspects of the marketing solutions like WeChat promotion, WeChat Official Account Registration, WeChat KOL, WeChat Mini Program Ad. and so on, we will ensure you have a solid marketing strategy together with perfectly delivered campaigns. Wechatapply  will transform your China online marketing to increase your lead generation, brand awareness and market engagement.