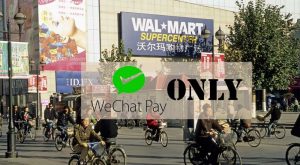 Walmart and Tencent Alliance in China may cross anti-monopoly line
Let go Alipay and Welcome WeChat Pay
Walmart has stopped accepting Alipay at its 90 supermarket stores and started taking on WeChat pay at all stores located in the Western region of China including Yunnan, Guizhou, Sichuan, and Chongqing, according to China Daily's report.
Walmart China has confirmed they reached a deep partnership with WeChat and there will be more exclusive benefits and discounts coming up soon. The two will also collaborate in big data analytics and precision marketing, the multinational retailer said it has ended the partnership with Alipay the two formed in 2015 and that it was a business decision.
Behind the scene
Walmart is JD.com's third-largest shareholder with just over 12% of shares, and the two formed a strategic partnership back in 2016. WeChat Pay's operator Tencent is JD.com's largest shareholder with over 21% share. Therefore it is not hard to figure out that Walmart has become a part of Tencent's blueprint to enter new retail.
Turf War – Gain upper hand by controlling traffic entry point
The Alibaba-Tencent turf war isn't new and neither is Tencent's exclusive right to its competitive strategy. Last September, Starbucks announced that it would start accepting Alipay rather than WeChat pay, 10 months after it had reached a deal with WeChat Pay.
WeChat Apply believes that in the new retail era, the situation where Double Ma devouring market has already formed, related players in the field need to choose which side to go with. The core competition is about who is grabbing the online and offline traffic entry points.
Not only in supermarket chains, we would anticipate more "choose a side" to occur to those high-frequency payment scenarios where these two giants are wrestling such as services like share bikes, shared car and food takeaway.
Detriment of Consumer Benefit?
Some specialist stated the move by Walmart may draw consumer watch dog 's investigation on whether the move was an act of monopoly nature.
Some consumers are complaining that not able to use Alipay has created inconvenience when shopping at Walmart stores in question. They are used to Alipay, and their WeChat wallets don't have enough credits.
WeChat Apply team appreciates the Walmart regional's strategic move was a strong win for Tencent and WeChat while we also took a dialectical view that the Walmart China's move may cause some kind of anti-unfair trading and anti-monopoly law in China.
From a micro perspective, removing Alipay from their cashier could be detrimental to consumer's freedom of payment choice. From a macro perspective, it can be viewed as an action to undermine the fair trade. It is allegedly to take advantage of its market position by limiting a certain condition of transactions, it could cause a distortion of the free market. However, it is subject to the law reinforcement and judge's call to observe, investigate and decide.
About WeChat apply
WeChat apply is an award winning China WeChat digital marketing agency based in Sydney.Working across all aspects of the marketing solutions like WeChat promotion, WeChat Official Account Registration, WeChat KOL, WeChat Mini Program Ad. and so on, we will ensure you have a solid marketing strategy together with perfectly delivered campaigns. Wechat apply  will transform your China online marketing to increase your lead generation, brand awareness and market engagement.