Video streaming site Bilibili is trying to sell more Japanese anime-style skirts to its young viewers. The company today announced a partnership with Alibaba's online marketplace Taobao, seeking to monopolize on content-driven e-commerce.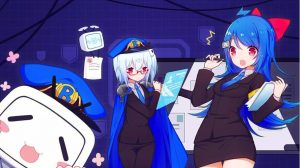 The platforms will connect content creators and users in a virtual bazaar, with Bilibili creatives registering for Taobao accounts while promoting merchandise through interactive content. The focus will be on products and services related to lifestyle, fashion, as well as anime, comics, and games (ACG) movies and novels.
The deal also seeks to find new ways to commercialize popular shows created by Bilibili users as well as titles the company owns.
"Through this collaboration, we will better incentivize the creativity of our young people and will utilize each other's strengths and resources to generate more premium content," said Bilibili CEO Rui Chen.
Alibaba launched an early content program in 2013, allowing internet users to purchase products on Weibo. The Chinese microblogging platform designed a new post format to display products, as opposed only showing links.
In 2015, Taobao rolled out an ACG initiative to encourage bloggers and writers to post on various Taobao channels. More than 1.6 million content creators were involved, according to Fan Jiang president of Taobao.
The e-commerce platform seeks to attract Bilibili's young users, more than 80% of whom were born after the 1990s.
In addition to Alibaba, Bilibili recently partnered with Tencent to operate and produce more anime and games.
However, Bilibili has stumbled financially since listing in the US. According to its third-quarter results, its net loss increased to RMB 202.7 million ($29.5 million), compared to last year's RMB 2.9 million.
About WeChat apply
WeChat apply is an award winning China WeChat digital marketing agency based in Sydney.Working across all aspects of the marketing solutions like WeChat promotion, WeChat Official Account Registration, WeChat KOL, WeChat Mini Program Ad. and so on, we will ensure you have a solid marketing strategy together with perfectly delivered campaigns. Wechat apply  will transform your China online marketing to increase your lead generation, brand awareness and market engagement.